PANTS
Through the Scottish RSHP programme we learn the medical names for the body parts including penis and vulva. This is important so we all have same vocabulary at school for when things are hurting or if they need to share something with us. We also learn the NSPCC's PANTS rule. Through discussing this, we aim to teach our pupils the following important:
Safety skills without giving explicit information or telling scary stories.
How to stay safe from sexual abuse.
PANTS stands for:
• Privates are private.
• Always remember your body belongs to you.
• No means no.
• Talk about secrets that upset you.
• Speak up, someone can help.
The lessons will introduce a range of ideas, all delivered in a way that's fully age appropriate. These include:
"Pantasaurus says, Pants make you strong"
"Pants cover up your private parts"
"You should say No if someone asks to see it"
"Pants cover up your vulva"
"Pants cover up your penis"
"If someone says to keep it a secret, say no and go and tell someone you trust"
"You can go in a private place so nobody sees your private parts if you need a wee"
"We close the door when we go to the toilet"
"Someone might need to ask to see it if it is hurting but they have to ask"
Naming parts of the body
Who your child can turn to if they ever feel upset or worried
"appropriate" and "inappropriate" touching
Your child's right to say no to things that make them feel upset or uncomfortable
If you would like to know more about the NSPCC's campaign, more information can be found at nspcc.org.uk/pants. If you have any questions or concerns please don't hesitate to get in touch.
Keep Connected
We are learning that by Keeping Connected we can develop our resilience.
Below is the whole school homework sheet. If you would like a printed copy, please email admin, subject – 'For Miss Copeland' then 'Please can I have a printed copy of the resilience homework'.
3 house points will be given to those who complete this and their work will be included in Ms Finlayson's sharing assembly.
First we shared ideas on how to make a friend
"If you want to make a friend say hello" Mason
"If you want to have a friend you look at them and ask 'do you want to be my friend'" Jack
"If they don't speak your language, play with them" Mason
"Or say Ola!" Morgan
"If they want to be your friend, maybe you could make them a cake" Safia
"Or give them a thumbs up" Corey
"Smiling at someone will make them happy" Mohtada
Then we made cards for our P6 buddies to thank them for being in our 'Back Up Team'
"We wrote messages for our P6 buddies" Corey
"Our P6 buddies are in our back up team" Mason
"I took the cards to the P6s" Alfie
… and they made cards for us too!!
Numeracy
"We were counting the bears and we were writing the plus and equals sign" Corey
"We had to count how many we had then write how many we had altogether" Jack

This week we looked at adding/ counting on with Mrs Brunner. Below are some fun games you can play at home!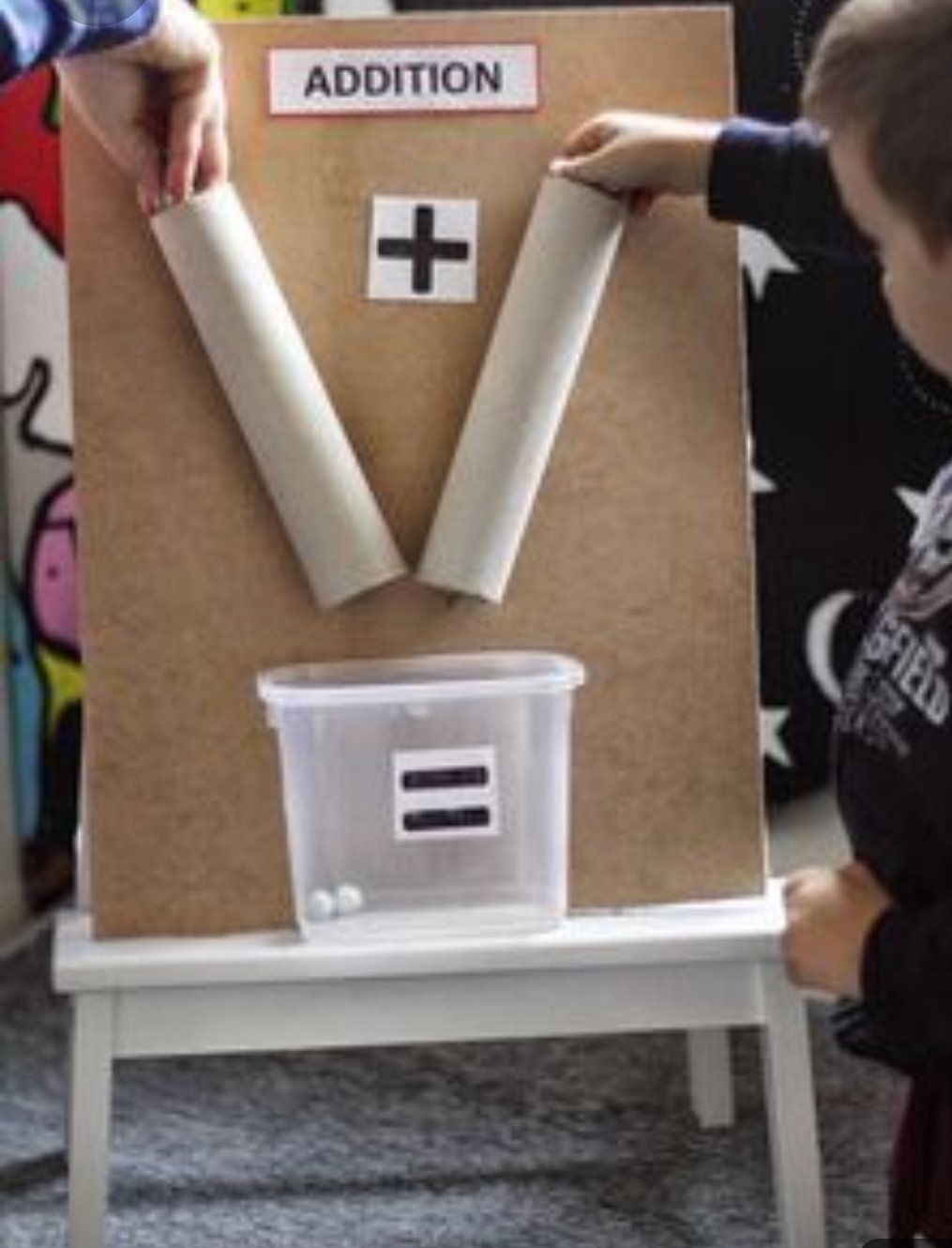 You could also try and make an adding machine at home!
Measurement
This week we looked at sorting from shortest to tallest, measuring with non-standard units, using and measuring with a ruler and introduced weight language such as heavier, lighter, equal, the same.
"When one side is heavy the other side goes up. If one side is too big it goes down" David
"You can put the same amount in both sides and it will be the same or you can call it equals" Morgan
"One side is heavier and the other side is lighter" Ethan
Gymnastics
This week we added balancing to our list of gymnastics skills. We used our creativity to balance on 1,2,3,4 and 5 body parts. We then used these balances and tried to do them on the benches along with our travelling and jumping.
"We were balancing" Mohtada
"We were making sure we never fell" Corey
Delivery!
Primary 4 came and delivered us this lovely letter. They have set us a challenge for Scottish Week to learn and perform this fun poem! We can't wait to get started!